What are you shopping for today?
Shipping & Delivery
Arrival times can vary based on the purchase type you make but all items usually are shipped in 3-5 business days. Our AOK! Signature merch is "print on demand" and may take a little longer to deliver these custom pieces. Please feel free to message us via the "CHAT WITH US" below and we'll investigate any issue!
We appreciate your patience and business!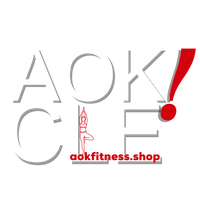 We hope you love it....
but of course we understand that sometimes the vision we imagined isn't quite how it turns our, it happens!
So keep out return policy in mind:
You'll have 14 days to return with all original packaging and tags attached. If it looks worn, well that's awkward so let's not even go there. Otherwise, we'll refund your original form of payment when you paid in full. If you use Afterpay, Shop Pay etc. you'll need to send it back.
Local returns are welcome in studio at our Strongsville location when you purchase online but the policies apply above.
All other returns must be shipped back by the 14th day at the buyer's expense....small businesses everywhere appreciate your respect of these rules so we can compete and not go out of business like so many others who came before us.
Thanks for understanding!
Our Mission at AOK! Active Fitwear
 As a Fitness Instructor for over 20 years, I've lived most of my adult years in workout clothes. I realized early on that I wanted to look good for the job & not dress in my worst tee and baggy sweats to lead class. I noticed that when I dressed for success, I liked what I saw in the mirror. I felt better!  I also realized that often this was how I was staying dressed for a busy day of errands, trips to the bank, running kids and well, you get the picture. I wanted affordable looks that went everywhere during the week & on weekends. So in 2019 I created this storefront to offer my clients in house and my virtual clients great looking go anywhere looks. Drop me a line, subscribe to our newsletter and stay with us as we add more to our line each day!
Look AOK! AF - Dressed for Fitness & Success!                                                                                                       
 Kim Flaherty, Owner AOK! Fitness & ShopAOK!-AF
AOK!'s Yoga Lounge

Enjoy a Deep Flow or Buti Yoga Class
Image slide

Tell your brand's story through images
AOK!'s Yoga Lounge
Enjoy a Deep Flow or Buti Yoga Class
Image slide
Tell your brand's story through images